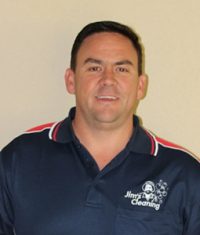 Belconnen Home & Office Cleaning
Welcome to Jim's Cleaning Belconnen! Call 131 546 or Book Online!

Meet Darren! Having lived in the ACT for over 28 years, Darren comes to the Jim's Cleaning business here in Belconnen from a career working with families requiring respite for disabled children.
Trained under the world-class Jim's Cleaning Group and equipped with the very latest in commercial grade equipment and products, Darren is skilled as a professional cleaner and understands deeply the needs of families when it comes to keeping the home clean and tidy.
"I always look forward to meeting new people" says Darren, Franchisee, "and I pride myself on delivering not only a quality end result, but great customer service too".
The prospect of taking charge of his own destiny, and having the flexibility to spend more time with his young family means the Jim's Cleaning business is ideal for Darren – and also for his customers!
With flexible scheduling options available for clients wishing to book ongoing or one-off general cleaning services, Darren at Jim's Cleaning Belconnen is an ideal local cleaning service for estate agents, landlords, property managers and business owners, as well as private clients.
Offering a range of well-priced quality general cleaning services for the home and office, Jim's Cleaning in Belconnen welcomes all small, large or complex cleaning projects with a range of value-packed cleaning packages available. From one-time or scheduled Spring Cleaning services, Vacate Cleaning (including carpet dry cleaning), Pre-Inspection Cleaning, Office Cleaning, Builders and Renovators cleaning, Oven Cleaning and other specialist cleaning, and more!
From floors and carpets, tiles and furnishings, window-coverings and bench-tops through to kitchens, bathrooms and toilets, appliances, fixtures and fittings; we work our way thoroughly throughout your home or office, cleaning, revitalising and refreshing as we go.
You'll love the scent of our eco-friendly cleaning products, which leave things sparkling clean!
Think it'll cost a fortune? You'll be surprised at the great low prices! If you can't find a package to suit you, speak to Darren about your tailor-made general cleaning package, designed especially to suit your unique needs and budget. There's something for everyone at Jim's Cleaning Belconnen!
Police Screened, Comprehensively Insured, Trained, neatly presented and courteous, there's nothing you won't love about Darren's superior cleaning services. So much so, we deliver a 100% customer satisfaction guarantee for each and every project.
Getting started couldn't be easier; just call 131 546 to speak with Darren about your cleaning requirements, to find out more, make a booking or arrange your free quote today – all enquiries are welcome!
Neighbouring Areas Serviced