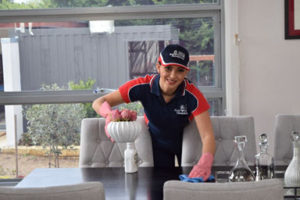 Gold Coast Home & Office Cleaning
Welcome to Jim's Cleaning Gold Coast!
You must have landed here because you're looking for a quality and professional cleaning service for your home or office – and you've come to the right place!
There are some key questions we're commonly asked, so let us tell you a little more about us, who we are and what we can do for you:
Jim's Cleaning Gold Coast belongs to the wider Jim's Cleaning Group – the largest, widest-reaching and most awarded professional cleaning group in Australia. As a franchised business, we're locally owned by real people who genuinely care about the services they deliver, and work hard for each and every client.
We're not just hired hands – we're real career cleaning professionals who have great personal credentials and have been trained to clean and achieve a great result with almost any cleaning scenario.
As a fully mobile cleaning service, we bring everything we need with us to each cleaning project, so our clients never need to provide a thing. Through the Jim's Group, we have access to the latest technology and processes in cleaning – beautiful commercial-grade equipment, tools and eco-friendly products which in the hands of our trained professionals, leaves things sparkling clean and smelling fantastic!
Call us and tell us what you need. We have great relationships with business owners, private customers, landlords, real estate agents and investors – and have a cleaning service to suit everyone.
We assist with one-off cleaning jobs (such as spring cleaning or builders and renovators cleaning, vacate cleaning or tricky jobs like oven cleaning where a specialists touch is required) or for ongoing cleaning at home or at the office.
You choose as often or as occasionally as you'd like to see us – and when. We're flexible with our hours and are available during and after business hours to take care of your cleaning needs. We're more than happy to create a cleaning package which will meet your unique requirements and budget, so let us know what you need, and we'll create a package to suit.
Low prices are just the start! Great value comes with professionalism, and a beautiful finish every time.
Thank you for visiting our page – hopefully we've answered some of your questions! We're always up for a chat, so call us to arrange your free no-obligation quote or find out more, today.