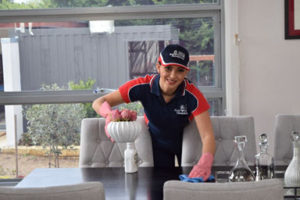 Norwood Home & Office Cleaning
Jim's Cleaning Norwood – The Ultimate Home Cleaning & Commercial Cleaning Professionals – Call the Jim's Group on: 131 546
Hello, my name is Steven and I am the owner of Jim's Cleaning Norwood. We service the areas around Norwood, Kensington, Malvern, Adelaide and Magill. Jim's Cleaning Norwood understand your needs and know that you have better things to do than spend hours a week scrubbing, vacuuming and dusting! We want to create more time for you to do what you enjoy doing! We can clean all the essentials in your home or office including cleaning and sanitising bathrooms and kitchens, mop and vacuum flooring and dust and wipe down cupboards and furniture.
We can even do specialised cleaning such as an oven cleaning, spring cleaning and vacate cleaning. As cleaning professionals we receive great satisfaction from providing our customers with outstanding cleaning with results that meet and exceed all their expectations! Whether you are after once off cleaning or regular cleaning as trained cleaning experts we can transform the appearance of your home, office or business into a real stunner!
We have the safety and security of being fully trained and insured with a current police check accreditation, giving you the peace of mind to leave your home or business in our trusted care.
We also have a 100% guarantee on our work, so if you are not happy with it we will fix it! If you require nothing less than exceptional, quality service please call 131 546 to have me quote and service your cleaning needs.
Cleaning Services in Norwood– Call 131 546 to arrange a free quote
Check us out on Google and Facebook!
Jim's Cleaning Norwood provide the following services:
Regular Home Cleaning
Regular Office Cleaning
Regular Commercial Cleaning
Bond Cleaning
Vacate Cleaning
House Cleaning
Domestic Cleaning
General Cleaning
Presentation Clean
Window Cleaning
Oven Cleaning
Moving in Clean
Business Cleaning
Builders Clean
Spring Cleaning
Once Off Cleaning
Jim's Cleaning Group also provide: Carpet Cleaning, Car Detailing, Blind Cleaning, Window Cleaning and Pressure Cleaning services across Australia. Some of these services may not be available in all areas..
If Steven are not available our friendly call centre team will put you in touch with another of our professional cleaning franchisees.
Call Jim's Cleaning Norwood!
We will come to you and provide a Free quote.
"Steven done a magnificent job, and at a fair price. We manage to have 100% refund of our bond."
"Excellent, quick service and responses, great vacate clean done by Steven. We are very happy!"
"Steven is excellent.Good attitude and aptitude!"
Neighbouring Areas Serviced