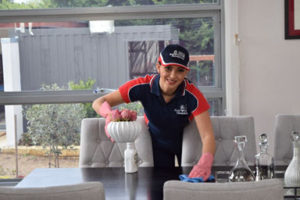 St Peters Home & Office Cleaning
Jim's Cleaning St Peters – The Ultimate Home Cleaning & Commercial Cleaning Professionals – Call the Jim's Group on: 131 546
Hello, my name is David and I am the proud owner and operator of Jim's Cleaning St Peters.
I service the areas around St Peters I enjoy cleaning and receive great satisfaction in completing quality cleaning services that are second to none! I provide home cleaning, business cleaning, office cleaning and commercial cleaning services at an affordable price.
I am dedicated about ensuring that your home or business is cleaned from top to toe and is perfectly clean, hygienic and smells great! Whether you require specialised cleaning such as oven cleaning, spring cleaning or vacate cleaning or you just want to maintain your home or office Jim's Cleaning St Peters can do it! I have all the necessary training, equipment and experience to transform your home, office or business into a real stunner!
I have the safety and security of being fully trained and insured with a current police check, giving you the peace of mind to leave your home or business in my trusted care. I also have a 100% guarantee on my work, so if you are not happy with it I will fix it! If you require nothing less than exceptional, quality service please call 131 546 to have me quote and service your cleaning needs.
Cleaning Services in St Peters – Call 131 546 to arrange a free quote
Check us out on Google and Facebook!
Jim's Cleaning St Peters provide the following services:
Regular Home Cleaning
Regular Office Cleaning
Regular Commercial Cleaning
Bond Cleaning
Vacate Cleaning
House Cleaning
Domestic Cleaning
General Cleaning
Presentation Clean
Window Cleaning
Oven Cleaning
Moving in Clean
Business Cleaning
Builders Clean
Spring Cleaning
Once Off Cleaning
Jim's Cleaning Group also provide: Carpet Cleaning, Car Detailing, Blind Cleaning, Window Cleaning and Pressure Cleaning services across Australia. Some of these services may not be available in all areas.
If Joe isn't available our friendly call centre team will put you in touch with another of our professional cleaning franchisees.
Call Jim's Cleaning St Peters!
We will come to you and provide a Free quote.
'David was the best cleaner I have experienced. He was pleasant, courteous, timely and did an outstanding job. I will definitely use David for all my future jobs. I have already recommended David to the real estate agent who is selling our home and will continue to recommend him to all my friends."
"Having David clean my home was amazing. He was professional, punctual and affordable!"
"Working with David to arrange my house clean was extremely simple and effective. I'll be looking to re-call David for future services!"
Neighbouring Areas Serviced