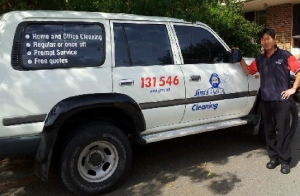 Forde Home & Office Cleaning
Jim's Cleaning Forde – The Ultimate Home Cleaning & Commercial Cleaning Professionals – Call the Jim's Group on: 131 546
Hello, my name is Cathy and I am the proud owner and operator of Jim's Cleaning Forde.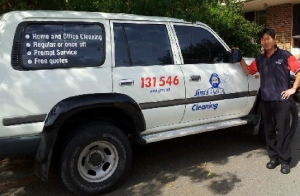 As a cleaning professional I receive great satisfaction from providing my customers with outstanding cleaning with results that meet and exceed all their expectations! Jim's Cleaning Forde will do the jobs you hate so you can do the things you love!
I love cleaning as I love to see the happy faces of my clients when they come back to their property and find it perfectly cleaned, freshened up and smelling great! I can clean all the essentials in your home or office including cleaning and sanitising bathrooms and kitchens, mop and vacuum flooring and dust and wipe down cupboards and furniture. I can even do specialised cleaning such as an oven cleaning, spring cleaning and vacate cleaning. Whether you are after once off cleaning or regular cleaning as a trained cleaning expert I can make your home or business look bright and welcoming.
I have the safety and security of being fully trained and insured with a current police check accreditation, giving you the peace of mind to leave your home or business in my trusted care.
I also have a 100% guarantee on my work, so if you are not happy with it I will fix it! If you require nothing less than exceptional, quality service please call 131 546 to have me quote and service your cleaning needs.
Cleaning Services in Forde – Call 131 546
to arrange a free quote
Check us out on Google and Facebook!
Jim's Cleaning Forde provide the following services:
Regular Home Cleaning
Regular Office Cleaning
Regular Commercial Cleaning
Bond Cleaning
Vacate Cleaning
House Cleaning
Domestic Cleaning
General Cleaning
Presentation Clean
Window Cleaning
Oven Cleaning
Moving in Clean
Business Cleaning
Builders Clean
Spring Cleaning
Once Off Cleaning
Jim's Cleaning Group also provide: Carpet Cleaning, Car Detailing, Blind Cleaning,Window Cleaning and Pressure Cleaning services across Australia. Some of these services may not be available in all areas.
If Cathy is not available one of our friendly call centre team will put you in touch with one of our professional cleaning franchisees.
Call Jim's Cleaning Forde!
We will come to you and provide a Free Quote.
Cathy did a very thorough clean of my apartment. And she was very professional and reliable. Thank you Jim's!
The cleaning was fantastic. They did a superb job (Spring Clean), and I will definitely be having regular Jim's cleaning from now on!
Very efficient and thorough cleaning service. Fantastic, clear and regular communication. I would highly recommend to others.
The job was fantastic. My oven smelled great! I can't believe how clean they got the glass shower walls. It was amazing. I can't begin to explain how pleased I was to come home to my apartment. Thank you so much! I'm so happy they will be coming back regularly for the bathrooms.
Neighbouring Areas Serviced